Hello Folks and happy Thursday to you!


Well my poor baby Girl stayed home again today, but this afternoon she seems to be rallying a bit and I think things look good for her to get back to school tomorrow. I've been busy opening windows and airing out the house a bit (even though it's a little chilly), and scrubbing, lysoling and sanitizing everything. I think we're all finally going to be back on track. (Famous last words as then my Hubby will come down with it - Lol!)


Okay, truly enough of that now. I promise not to bore you with anymore sick talk. But I do want to thank you all for your kind words of support and sharing your own misery - as several of you have been fighting bugs of your own. Hopefully this just means we're getting that crud out of the way early and will have a long healthy winter ahead!! ;) However, today I want to think yummy thoughts! And by yummy I mean a potential birthday dessert for this weekend, and by weekend I mean Saturday....and by birthdays I mean me! I love the taste of chocolate eclair - or Boston cream pie kind of desserts (they're similar enough to me). So I have 2 different recipes I'm thinking of trying. I'm still not sure which one I'm going to make but I'll share them both with you, as I think it's win-win either way.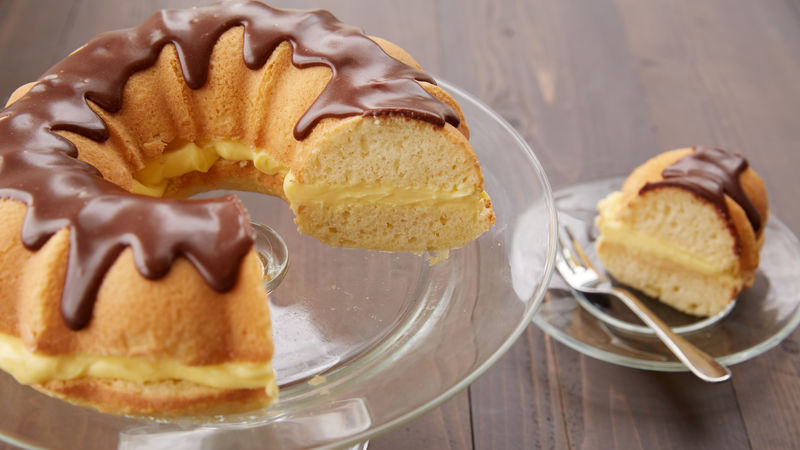 There's this chocolate eclair cake by Betty Crocker and you can also find it on my pinterest under sweet treats.
Ingredients
Cake
1

box (16.3 oz) Betty Crocker™ Krispy Kreme Doughnuts™ cake mix
Water, vegetable oil and eggs called for on cake mix box
Filling
1

box (4-serving size) vanilla instant pudding and pie filling mix
1

cup milk
1/2

cup frozen (thawed) whipped topping
Glaze
1/4

cup semisweet chocolate chips
Glaze pouch from cake mix box
2

to 4 teaspoons milk
Directions
1

Heat oven to 350°F. Grease and flour 12-cup fluted tube pan. Make and bake cake as directed on box for fluted tube pan. Cool completely.

2

In medium bowl, mix pudding mix and 1 cup milk. Using whisk, mix 2 minutes until blended. Fold in whipped topping.

3

Cut cooled cake in half crosswise. Place toothpicks in cake to use as guide, if desired. Spoon pudding mixture evenly onto bottom half of cake. Carefully place top half of cake over filling. Cover loosely, and refrigerate until serving.

4

In small microwavable bowl, microwave chocolate chips uncovered on High 45 to 60 seconds; stir until smooth. Stir in contents of Glaze pouch and milk by teaspoons for thick glaze consistency. Spoon over cake. Cover and refrigerate leftovers.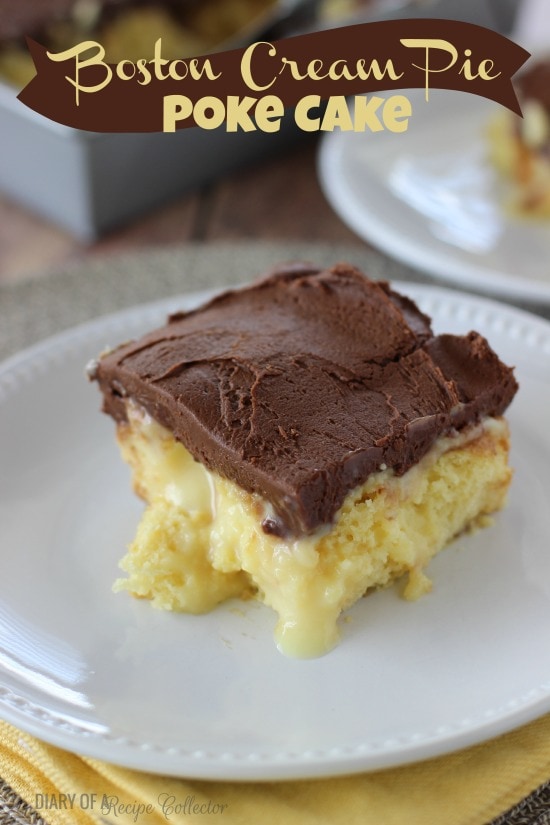 The other is this Boston cream pie poke cake by Diary of a Recipe Collector - also found on sweet treats board on my pinterest. Doesn't that look so good too? MMmmmm
Boston Cream Pie Poke Cake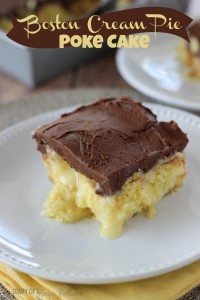 Author:
Jaren
INGREDIENTS
1 box yellow cake mix plus ingredients to make cake
1 3.5 oz. instant vanilla pudding mix
2 cups milk
1 14 oz. can sweetened condensed milk
Frosting
1½ sticks butter, softened
¾ cup cocoa powder
½ cup boiling water
1 tsp vanilla
5 cups powdered sugar
INSTRUCTIONS
Bake cake according to box mix directions in a 13 x 9 pan.
While cake is in the oven, mix pudding mix with 2 cups of milk. Whisk until combined and let sit for 2 minutes or until thickened. Whisk again for a few seconds.
Whisk in sweetened condensed milk. MIXTURE WILL BE THINNER THAN PUDDING. THIS IS OKAY SINCE YOU WILL LET IT SET UP IN THE REFRIGERATOR.
Remove cake from oven and poke several holes with the handle of a wooden spoon.
Pour pudding mixture all over cake filling all the holes and letting it completely cover the cake. Let it sit until cooled (about 1 hour).
Make frosting by adding softened butter to a large mixing bowl. Add cocoa powder. Carefully pour in boiling water. Add vanilla and beat for about 1 minute or until combined.
Gradually add in powdered sugar beating after every few cups added. Beat until smooth.
Frost cake and refrigerate until ready to serve. BEST REFRIGERATED OVERNIGHT.
NOTES
*Pudding mixture will be thin, and that is okay. This will allow the cake to really soak in the mixture. It will also thicken as the cake refrigerates.
**The frosting quantity on this recipe has been reduced from what was previously posted.




I don't think I can go wrong either way. Do you have a favorite dessert you like for your birthday? xo